And I'm still tired!! But, it was a blast! We left here in the early morn hours on Friday to drop off Jett and Nanny and Papa's. Next we needed to go get Grandpa. Then it was off to Deltona for a wedding weekend. Nope, not mine. DUH! Jessica and Blake were gettin' hitched! Little did we know we would be the old farts of the bunch. You see Friday night was the Rehersal, the Rehersal Dinner AND the Bachelor/Bacherlorette shin dig! And all of this didn't start until close to 7:00 PM!!!
First, we went to the rehersal. If left up to Jake we would have done one quick run through and called that it. He's not one to ponder on who needs to walk where and with whom. Just get us all to where we need to stand and everyone remember where you are!
Then it was off to Beef's for dinner. Being pregnant and moody and picky I was not a quick decider on my dinner choice. Remember, Jake likes things done quickly! So, while he was at me to pick a meal I settled for Chicken Tenders and french fries. Nothing beats a fully fried meal! YUM! (Not really!) I will say that the FRIED Mushrooms I had for an appetizer were delish!
After everyone said their goodbyes it was off to the BOWLING ALLEY! We arrived around 11:00pm! I'm not real sure why we decided to pay for 3 hours of bowling....we were all already SO tired! LOL But, it was off to the lanes we go! I grabbed my crusty bowling shoes and bowling ball with holes entirely too tiny for my fingers. Apparently, no ball was going to work for me that night. I think I bowled a 88, maybe, as my high score. The blasted ball kept getting stuck on my thumb!
After a LONG night of bowling it was off to Steak and Shake. Yep, you heard me. We weren't done, so we thought, at 2:45am so we figured a greasy burger was calling our name. I had a plate of apples and grapes. Now that's what I'm talking about! The rest of the group had those greasy burgers!
THEN it was time for bed. We all went home and CRASHED!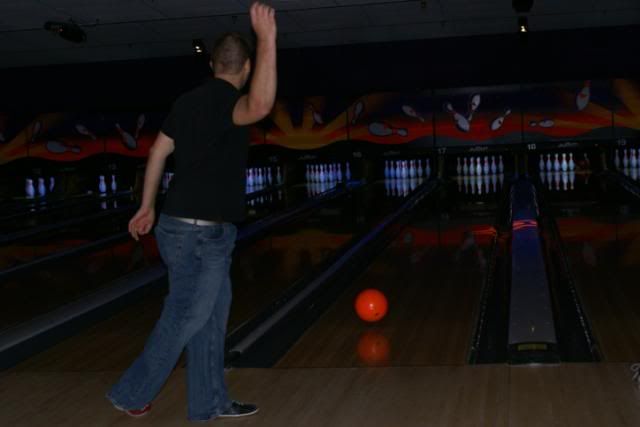 Blake appears to be a pro huh! Check out the next pic. This is JESSICA's Score...4 Strikes in a row!!!!!
Also note that I am *M*. My score is 41! LOL
We all know how a wedding goes. I'll just leave it at it was a beautiful day! Everyone looked stunning and my hubby was
HOT
in his tux!!! Here's a couple of shots from that day!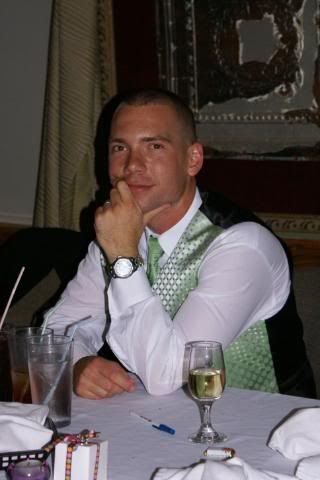 The Made of Honor and the Best Man!!!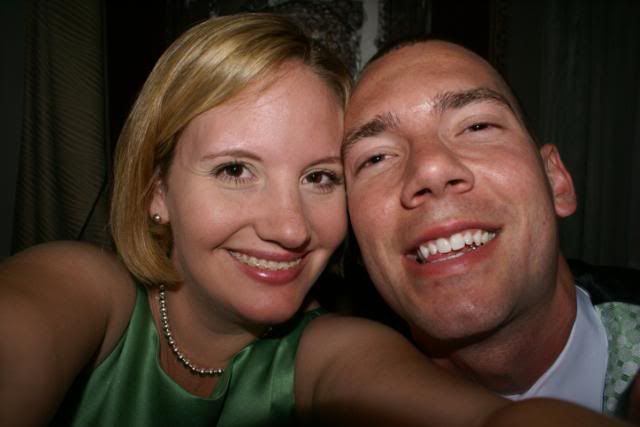 Again, remember my last post when I said all pics of me are self portraits??? Well, here's another! Only I dragged Jake in it with me!!! :o)
So did you all catch that??? I'm pregnant!!! Did you read that UP THERE??? Well, that was my big secret in my post from like 2 weeks ago. I'm sure there weren't many left in suspense. Some of you even emailed me to ask!!! I'm glad someone reads this thing! LOL
I hope to post again SOON!