Ever had homeade donuts?? Well, my step mom used to make them for us when we were kids and now my father in law makes them for my kids....I figured, Hey, if they can do it then so can I! So, with a little instruction from both of them, Jake Austin and I set out to made homemade donuts! MMMMMmmmmm.....YUMMY!!
Here's the jist.
Take a package (or two if you have a great big sweet tooth) of these
Open them and seperate them. Then find the nearest kiddo to push the holes out. (I used my Pampered Chef Corer but you can use a small cookie cutter or a 2 liter lid. You want the holes to be about nickel size)
You may now eat a few pieces of dough...another YUMMM!!!
Next, drop them into hot oil. I used veggie oil about 1 inch deep.
But, hurry....they cook fast! Flip them over! Hurry! :o) (do you hear the urgency in my voice???)
Now, you have this.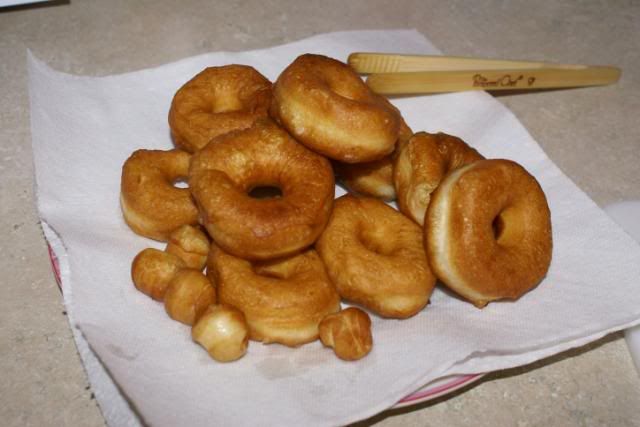 Finally, get a large Ziploc or a lunch size paper bag and pour in some powdered sugar. Drop your donuts in one or two at a time and SHAKE, SHAKE, SHAKE!!! do this until your finished with them all. Oh my goodness...are you ready?? These are so yummy....especially hot!! Oh my, I might go make some now!!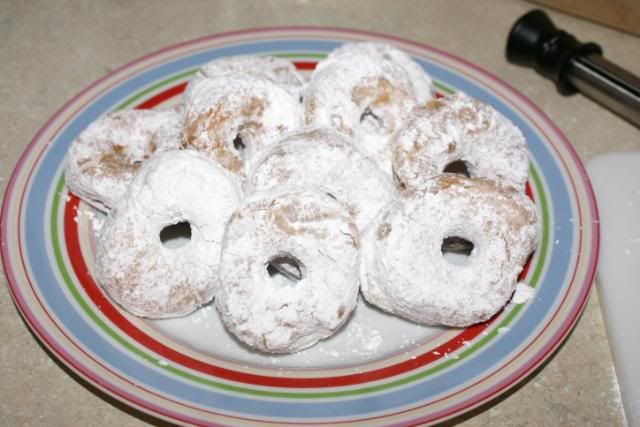 You can also mix some powdered sugar and milk for a glaze...that's the way my father in law makes them for Jake. He likes them better that way. I prefer the plain 'ol powdered sugar!
Enjoy!