I know this is a little late...but better late than never right???
We had a fabulous Thanksgiving. I was telling Jake that I think it was one of the best yet!
We ate SO much food! I think we were close to needing to be rolled out of our stops! First we went to Aunt Debbie's. I had turkey, green bean casserole, dressing (with no innards!!), corn casserole, a Sister Schubert yeast roll (which I think are a bit over rated)...what else??? I think that was it. But, it was SO GOOD!!!!
The kids played hard at her house too! Jett and Jonah enjoyed the playground while Jake Austin ran around the pond with his cousin and caught tadpoles and minnows and a crawfish! Because of this I have very few pictures of him on this day....but, I do have one of the tadpole!
He is now the proud daddy to about 10 tadpoles, 5 or so minnows and one crawfish...that he would rather not have! He loves the tadpoles and minnows but the crawfish freaked him out a bit! :o)
I was able to catch one quick pic before he ran off to catch some more! He kept saying "this is the best day EVER!!!!!" and then he'd run off!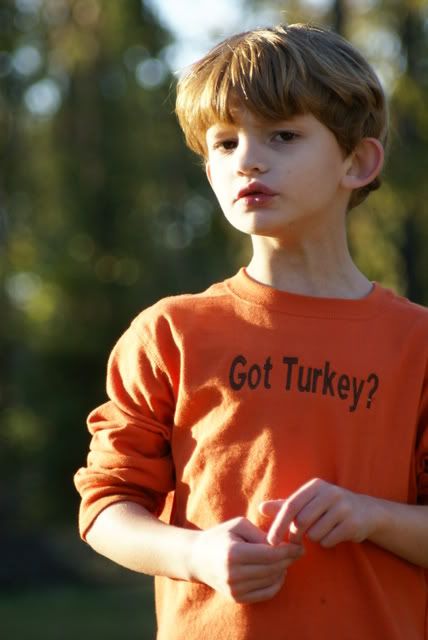 Here are my other two turkeys!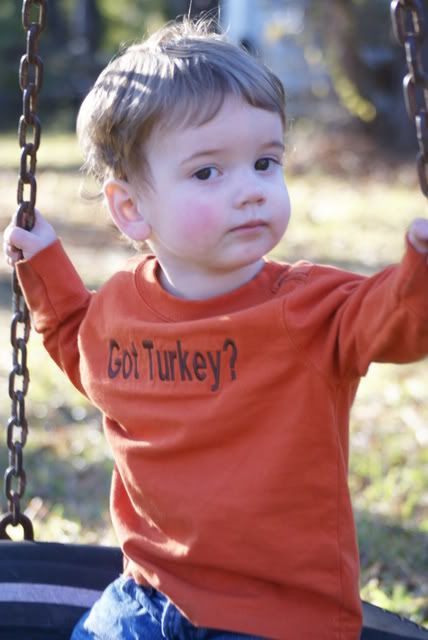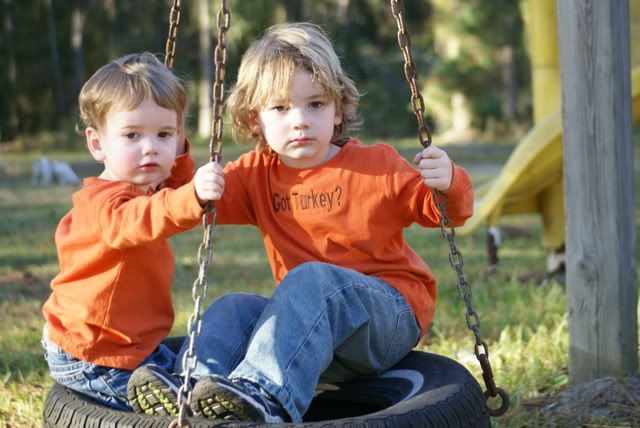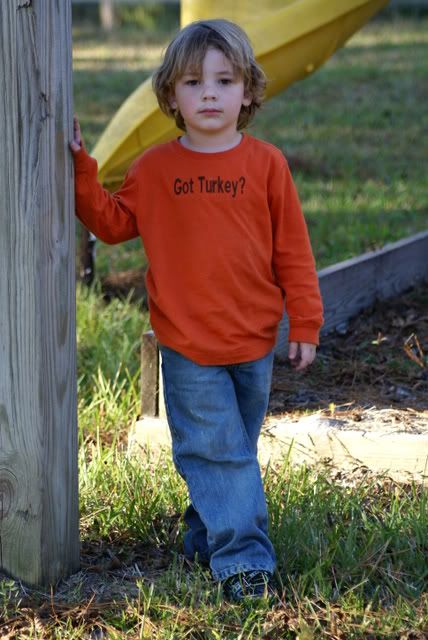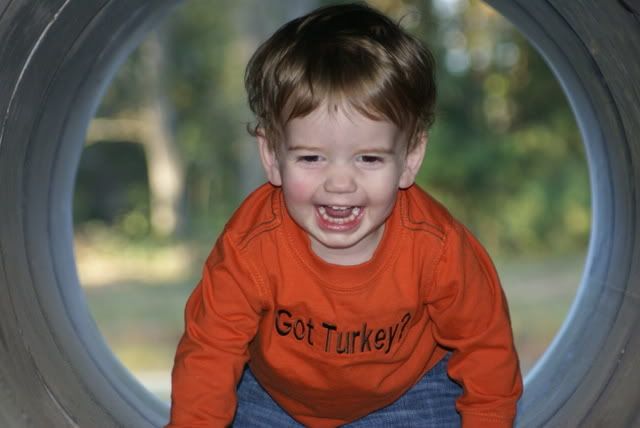 This picture is just too sweet not to share...Jake got into the tire swing and Jonah crawled up into his lap....sweet boy!
After Aunt Debbie's we headed over to my Dad and Julie's. More yummy food waited for us!!! Oh my goodness...there were turkey breasts topped with a peach something, green bean casserole (you can NEVER have enough), cucumber salad, mashed potatoes, dumplings...and then desserts...wow! I was so stuffed! I sure could go for round two right now! :o)
I only took one picture that night...it was night time and we were outside most of the time...I should have pulled out the camera and took some of us eating! That would have been a hoot! I bet I'd have one or six of Katelyn showing me her food!!!! LOL We did have so much fun over there! We were all suppost to write something we were thankful for....well, I wrote I'm glad God made me (among other things) and Dustin went behind me and scratched out ME and wrote his name. LOL!!! Jake was thiankful for his "onederful" family! This is big Jake I speak of! We were having a blast!
Ok. So here's my one pic. It's not even a good one. It's of Easton, Jett and Jonah going on a Nanny pulled wagon ride!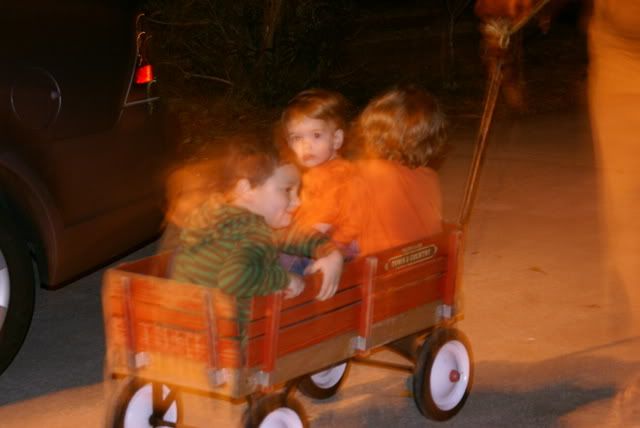 Well, there you have it. Our Thanksgiving 2008!