I'm on a few little chat groups online...for etsy, for ebay, for mommies. Today I signed on to the one for mommies and saw a thread that read "Hey, Jonah-Bonah...My kids, Your Hubby" My first thought was that she and her kids ran into my hubby, but how did they know it was him. I was intrigued! :o)
A little background...I did a bit of bragging when Jake was selected to be what I call "the poster child for the Army Reserves"...and I showed them a picture cause well, he's a hottie and I'm a proud wife! Now that you're caught up....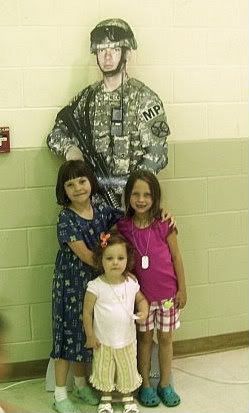 Isn't that the cutest!?!? (I asked permission to post her picture) She said as she was going into the Reserve Center for a Family Readiness Meeting my hubby greeted her!!!! Even in cardboard form he's the most social guy I know!!!