Today I spent most of the day trying to make some sense of housing in KY on post. I learned that #1 we have to apply for housing in person with orders, marriage certificate, and all the children's birth certificates in hand, #2 there is a 2-4 month wait for a house suitable for our needs, #3 nothing new.
Oh wait, I did learn that I can't pack anything prior to the movers coming because it all has to be inventoried...so they don't want it in boxes before they come to box it up. If we claim it isn't there when we get there and it wasn't inventoried then, well, it wasn't ever there in their eyes. Does that make sense?? Clear as mud?????
So, after getting no where there I decided I could at least start packing what I know needs to go with us on our drive up there. I've been told that at least two weeks worth of clothing is a good idea.
Jett and McKinley are now packed and ready to go!!! Well, just their clothing...that doesn't include diapers, wipes, play pen, strollers, exersaucer, bottles, sippy's...I'm beginning to wonder if there's going to be room for me in the truck!!! :o)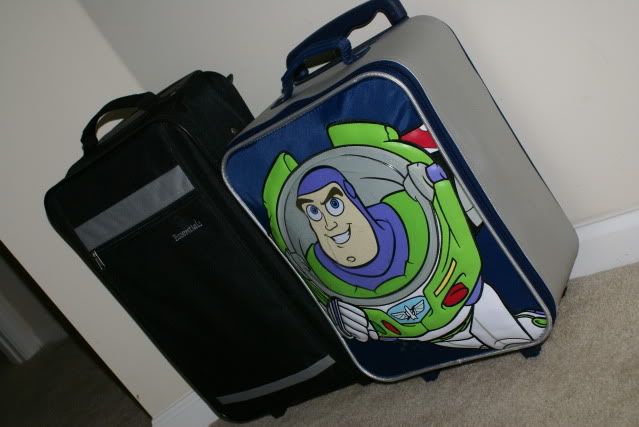 There they are...two tiny suitcases. I wish McKinley had a cute pink suitcase....how sweet would that be??? One with flowers or girly things allover!!! Oh well, there are more important things in life, huh?!