I took these pictures today...Ninnie (did I tell ya yet that she's been re-named??? Not really, but Jett calls her that and it has stuck with the rest of us...) is a movin' and a shakin' these days. She was beginning to crawl before we left Jacksonville. Now she's fully crawling...and pulling up. The pulling up part makes me super nervous. She's not even nine months old yet. Tell me this girl is not going to be walking at nine months old. I think the gray hairs will begin surfacing if she does!!! :o)
She only passed up the bottle for a second...she went right back for it!
And then something else cought her eye...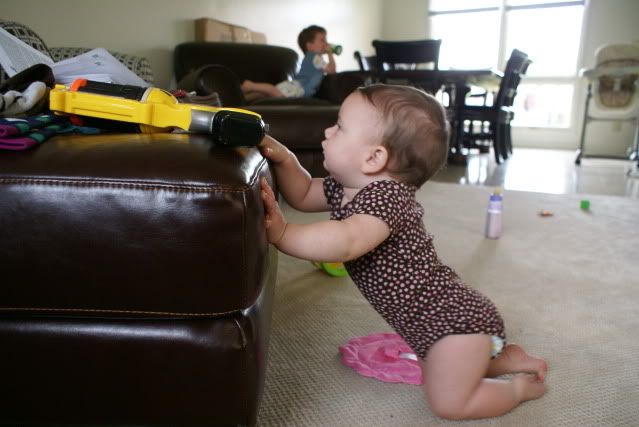 Ninnie is also eating lots and lots of new yummies! Here she's eating tasty Gerber puffs. She's also had Cheerio's, blueberries, bananas and very cut up chicken fingers!
She has to be fast...her brothers always seem to be more intersted in what she's eating than with what is on their plates!!
"Maybe if I cover my eyes she won't see me..."
Ya'll pray for me. I'm in for a world of trouble when she starts walking! Did I mention our new house has stairs???? YIKES!