I thought about creating a post for each of our Christmas festivities...
but, I get tired all over again just thinking about it.
So, I'll just get it all out in this one post.
You'll thank me later.
And I'll make collages of the pictures...
you'll thank me later.
I must first tell you that we left our little town of Fort Campbell, KY, on December 18th, to venture home to Jacksonville, FL.
Me, The Hunky Hubs, our four blessings, and A LOT of baggage!
Our full-sized SUV was PACKED to the max.
We had stuff in every nook and cranny inside the truck and even on the luggage rack on top.
It was a sight.
We arrived safely and very tired!
Our schedule became QUICKLY packed full of fun times with friends and family.
Remember the friends post a few back??
GOOD TIMES!
It didn't stop there.
Jake Austin asked Jesus into his heart.
GOOD TIMES!
Lots of wood splitting fun...
father-son bonding...
GOOD TIMES!
And then, lots and lots of places to go to open lots and lots of presents.
First up was my dad's and Julie's.
We and a Wii!
Woot!!!
Good times are going to be had while playing.
Next was Mom and Ray's.
LOTS of presents for all.
And, SNUGGIE's...for all!
I tell you what, whoever came up with that "blanket with sleeves" is one lucky duck!
Taylor Swift's Fearless album was among one of my gifts...YAY!
(that's a fantastic CD, by the way! it'll make ya cry.)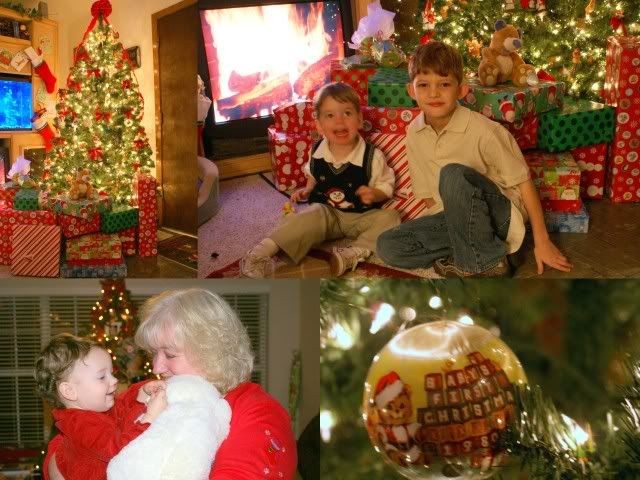 (that's my 1st Christmas ornament...it's OLD!)
Moving on to Christmas Day.
We stayed with The Hunky Hubs' parents so Christmas morn was spent there.
Santa visited there.
The stockings were full.
Christmas evening was spent at my step-dad's sister's house.
We had a good time...
no pictures to share though.
So, that was Friday.
Saturday was the first day we had to relax...
and we did.
Sunday we went to church.
Then we went to Aunt Shirley's.
Again, no pictures.
I think I was just absolutely pooped and had no energy to even carry a camera.
Monday was our last day of Christmas.
We spent the afternoon at Aunt Debbie's.
I always love going to her house.
It's got so many windows and is just so pretty!
One day I'm going to have a house like hers.
One day.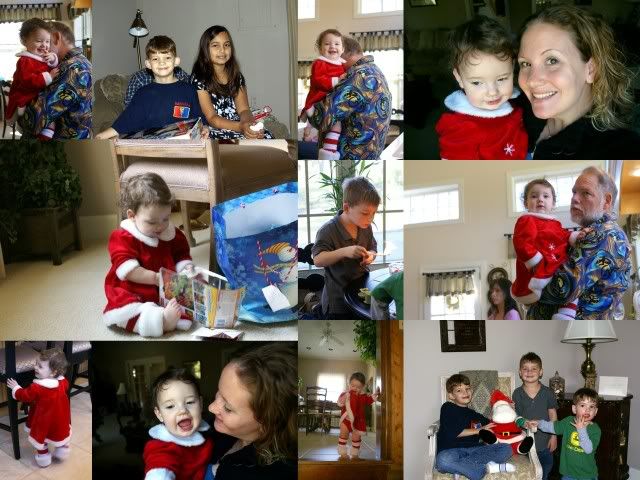 Did you guess that we had to use OUR Christmas money to purchase a luggage carrier for the roof rack to get all these gifts home.
If you did...
well, you don't win anything.
But, yep, we did.
Overwhelmed by His blessings...
that says it all!