The Hunky Hubs and I took the kiddos to see The Big Man last weekend.
McKinley could've lived without him.
Jake could've lived without having to wear that shirt.
Jett just wanted whatever they were coaxing him to smile with.
Jonah was my only grinnin' kiddo.
I can't wait until next year....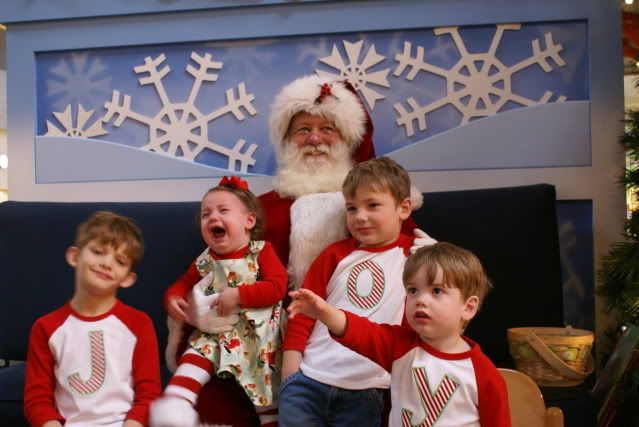 McKinley says, "Get me outta HERE!!!"
(where the heck did Elmo come from?)
Remove screaming baby...
Any better?
Nope!
Maybe if we go to Santa's Workshop in Bass Pro Shops we can get a better picture...
Oh well, I give up. Let's just say these aren't going in the Christmas cards...or maybe they will. I don't think I have the energy (or time) to try again. :o)
One more to show you she really is a happy baby!
(photo taken by the one-day-famous-photographer Jake Austin)