i love my best girlfriend.
love her.
i seriously could not ask for a better friend.
ever.
last week we left the six kiddos with her hubby and took off to olympia, wa.
just us.
two girls, who haven't been without children in tow for, well, as long as we both could remember.
overnight.
no children.
just us.
we had dinner in the theatre district.
we may or may not have feared for our lives, or at least or belongings, as we walked down 4th street.
ramblin' jacks, the steakhouse that fed us, was so good.
even better without the "sit downs" and "if you touch that knife again we'll go to the bathrooms" that would have been flying from our mouths with the kiddos there.
we had plates filled with steak and pulled pork.
sweet potato fries and garlic mashed potaoes.
tri-tip cooked well done and "sweaty old man" BBQ sauce.
oh, you weren't there to laugh until your side hurt about the "sweaty old man" BBQ sauce....so you're completely clueless about that.
let's just say it was hil.ar.ious.
praise the Lord the sky stays lit until at least 10 o'clock in washington so after dinner we ran in the still lit night back to the hotel room and locked the door!
(it really was
not
as bad as i make i sound...)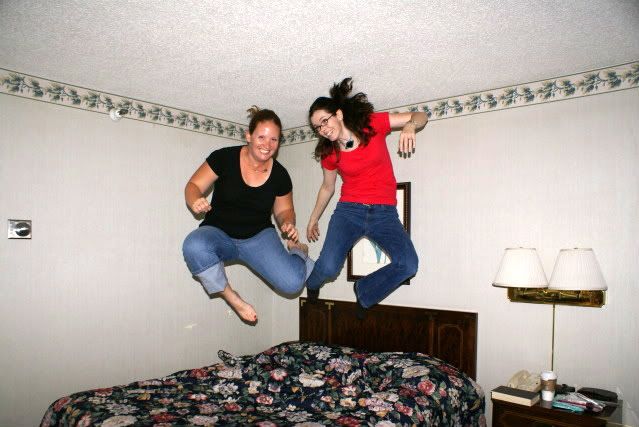 after we got into the room we remembered that we wanted a cup of coffe.
would you believe that the starbucks across the street closed too early?
we set out, in the truck, for an open late coffee shop.
only thing we found was a book store...with a coffe shop.
we decided on two expresso drinks and a book.
i am not a reader.
until that late night.
tera introduced me to karen kingsbury.
a christian fiction novelist who has me completely intrigued to find out who kari baxter will fall in love with next.
two chapters later, i was making her promise she'd lend me her copy as soon as we got back to her house.
i haven't read a book since high school.
that was forever ago.
forever!
later that night; after a few episodes of golden girls and a healthy late night dessert of to-go tirimisu, us old ladies hit the sack.
the next day we had a day filled with fun!
the farmers market.
the capitol building.
laughs.
plans of a future trip.
shopping.
painted pottery.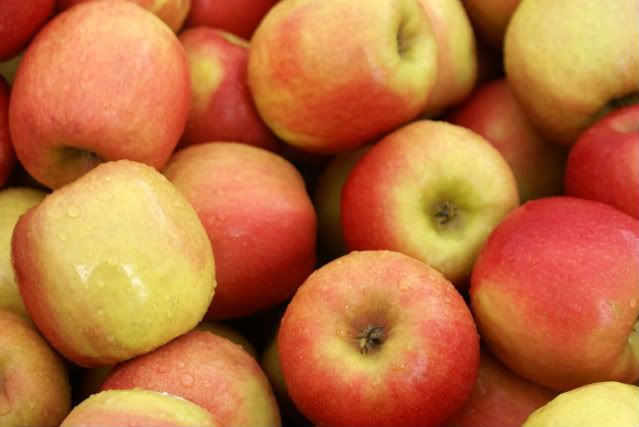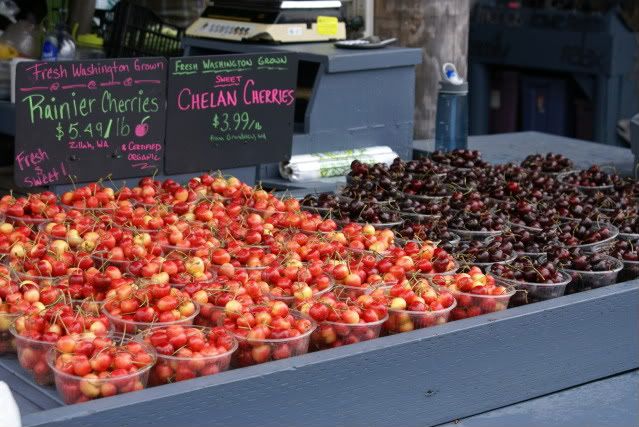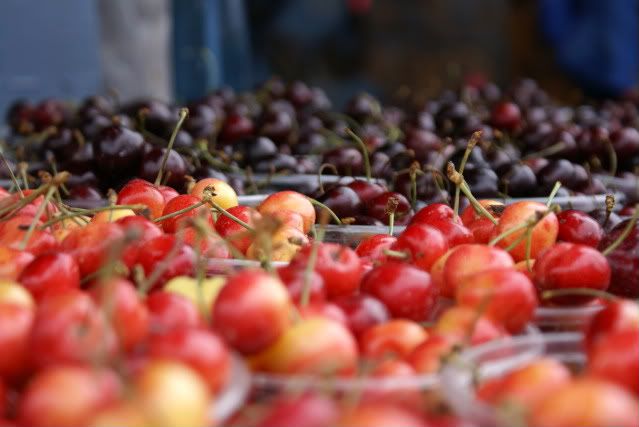 my finished plate for tera.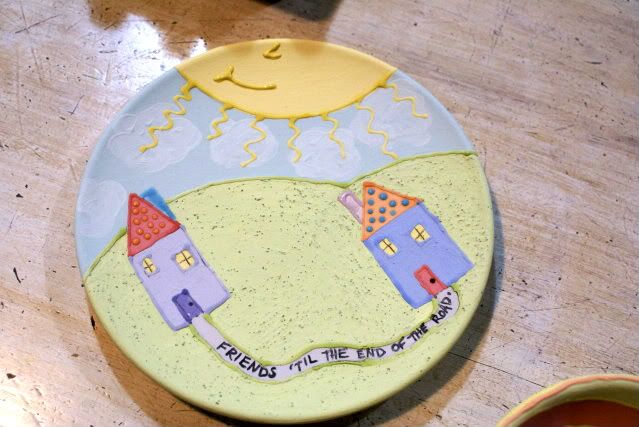 tera and i with our finished pieces.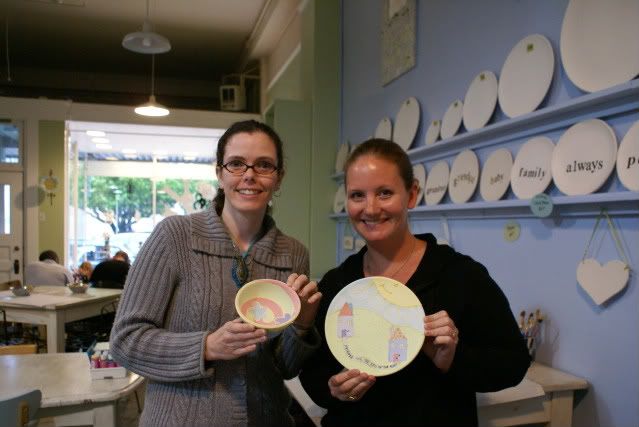 i can't wait to see them after they've been glazed and fired in the kiln.
tera made me the bowl.
i can't wait to see it.
(she'll mail it to me from across the miles...where our friendship will never end!!!
cheesy?
it's late.
i'm tired.)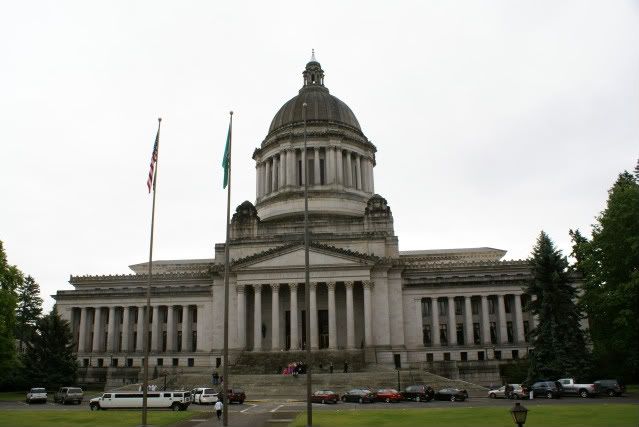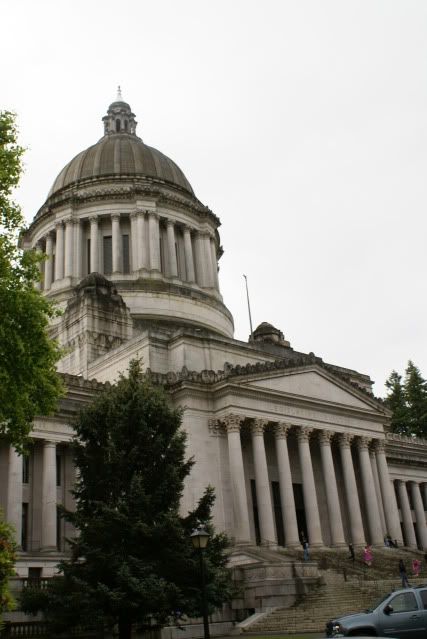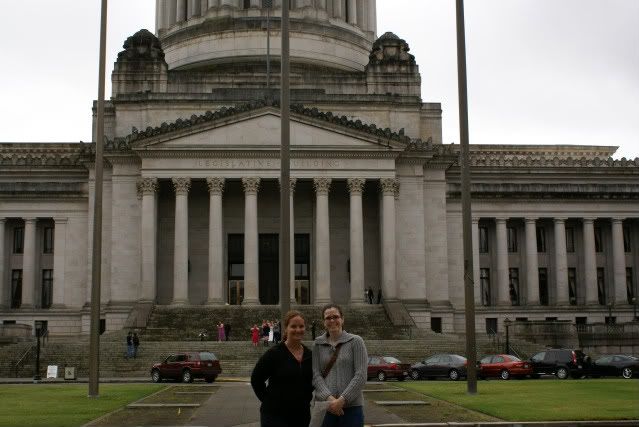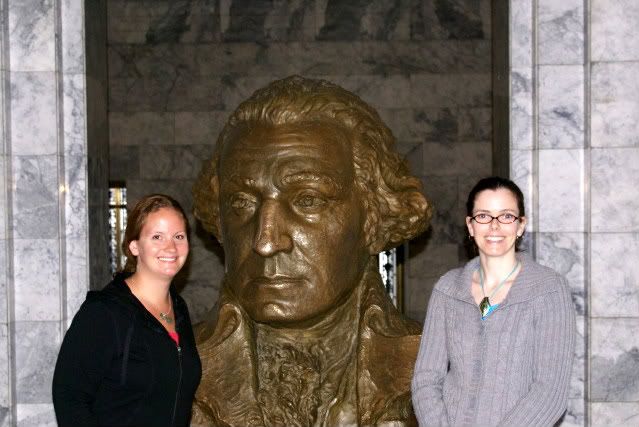 rumor has it that if you rub washington's nose you'll have good luck...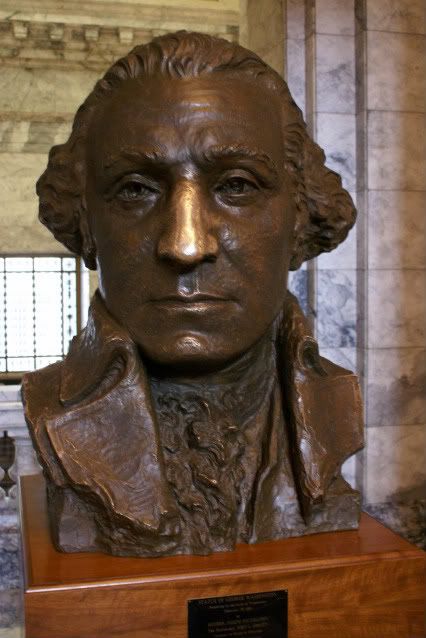 p.s. i finished the first book, in the five book redemption series, by karen kingsbury.
i'm now on a hunt for book #2.
NOT available at walmart...
congratulate me.
i'm now a novel reader.
toodles.