Whew!! Yesterday was a loooonnngg day! We got up extra early (7:00AM!!!!) to go get Jonah's hard cast. He was so brave! I was even able to tell him where we were going without him having a full blown panic attic! (The night he broke his arm he begged and pleaded with Daddy not to take him to the
"hos-stible"...this, of course, melted Daddy's heart and we went the following morning. The next morning he was none the wiser when we said we were going to visit a "friend"....doctors are friends right?????)
Ok, so I got a little off track. We went to get Jonah's hard cast. This whole process takes all of 10 minutes. Jonah watched as Ms. Laverne put on his new, green piece of weaponry!! (you know he's going to discover that this thing works great to keep big brothers away!!!!) Anyway, I'm a little flighty today and can't keep on one train of thought, (no smart comments from YOU Kris!...and Jake!!!!!) so I'm just going to let the pictures speak for themselves!
My brave boy wanting SO badly to ride his bike!!! He lasted all of two minutes....he couldn't steer with only one arm. :o(
Ya think his cast was ready to come off? Daddy gave him a bath the night before. He put Jonah's arm in a plastic bag and told him NOT to put it in the water. Daddy turned his back for just a minute and the WHOLE arm was submerged. His cast was wet and in turn got heavy and started sliding off!!! Good thing the hard cast is above the elbow!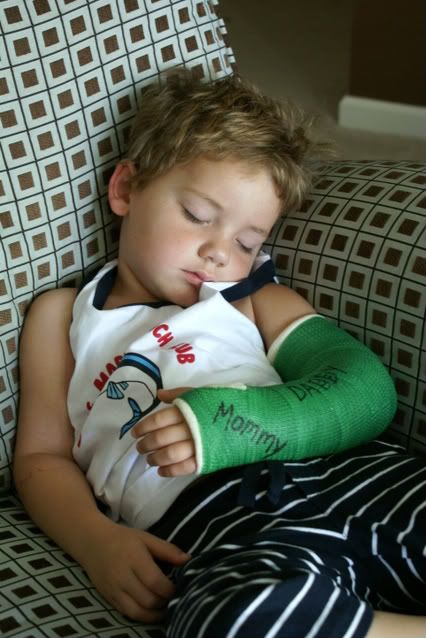 All tuckered out!
***
I thought you'd be interested in knowing that the chair shown in the pics is the one who Jonah blames!! He jumped into that very chair!!