This year Jake started 1st grade and Jonah started Pre-K. AND I'm homeschooling.
We got up on Tuesday at 9:30 and immediately got going with our day.
Breakfast 9:40-9:55
School 10:00-11:30
Start lunch, kids get free time 11:30-11:45
Lunch 11:45-12:15
We had mac-n-cheese with Octopus hotdogs...or maybe they are Quadopus'??? I only cut them 4 little legs. :o) The boys really enjoyed that surprise!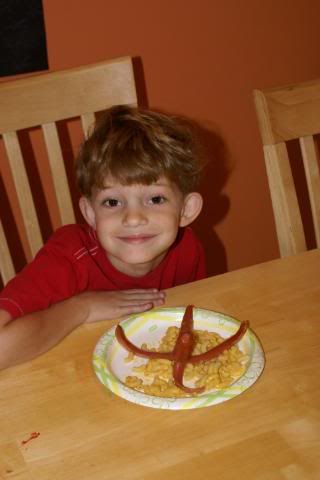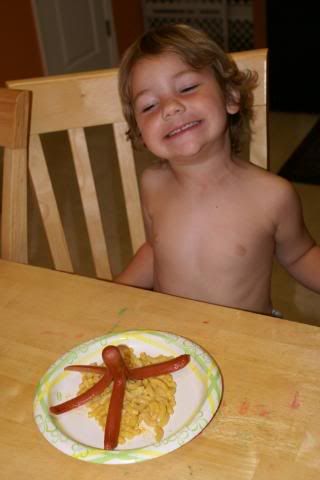 Rest time...they don't have to go to sleep but they have to stay in their rooms! Mommy needs a break! 12:15-1:15 or so.
Then we did a craft...that lasted about 30 minutes.
School is DONE by 1:30!
I'm gonna try to get this schedule down to more of a routine in the coming weeks. We'll be going to Park play dates every Friday and I'm hoping to find a co-op group to go to once a month.
This is going to take some getting used to but, it's what is best for our family!
This is Do-A-Dot Art.
I have been looking for Bingo Markers everywhere. I saw this done on John and Kate plus 8. She had her kiddos doing it and it seemed the perfect activity for Jonah-Bonah! I never found any bingo markers. What I did find was these fun Do-A-Dot Art markers. Same concept! But, I'm sure much more expensive than bingo markers....oh well, Jonah LOVES them!!!
He dotted 5-6 pages during school on our first day!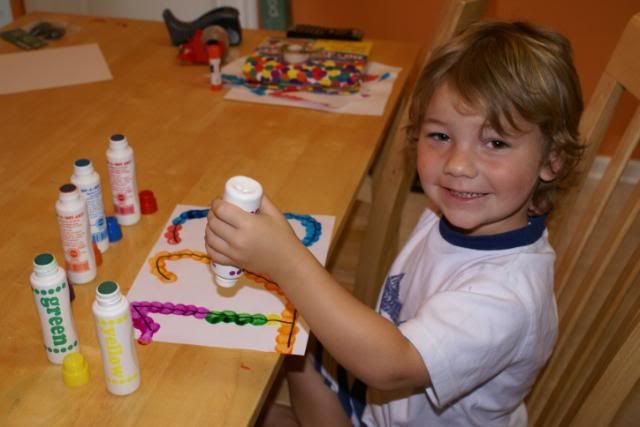 Jake Austin even wanted to dot! And he did! He dotted his name for our calendar wall! (I'll have to get a picture of our "classroom" when I get it a little more under way)
Yesterday we went to the zoo for our classwork. Jake made a list from A-Z from the top to the bottom of the page. When we got to the zoo we looked for the names of animals from A-Z! Ants, Bushmaster (that's a snake!), Centipede, Two-Toed Sloth...those are just the ones I can remember. I think we are missing only 7-8 animals. So, how's that for science and handwriting all in one lesson!!! Jake had such a great day too! I think he's liking his teacher! :o)