I got all of this for $42.xx!!!!!
I'll give you a bit of a break down but I don't remember all of it....well, I probably do since I could have done this shopping trip with eyes closed as prepared as I was. That's a big key to successful couponing...preparedness!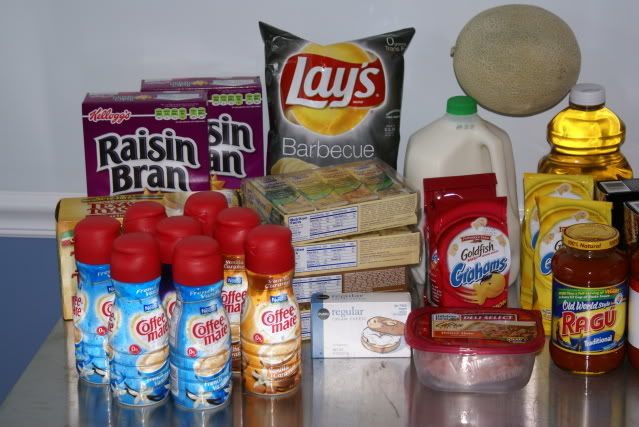 Coffee-Mate creamers
= $0.17 each
Raisin Bran
= $0.99 each
Lay's BBQ Chips
= FREE when I bought the lunch meat and bread...I had a $0.55 off the meat too!
Pepperidge Farms Goldfish Grahams
= FREE! They were BOGO and I had a BOGO coupon!!! Score!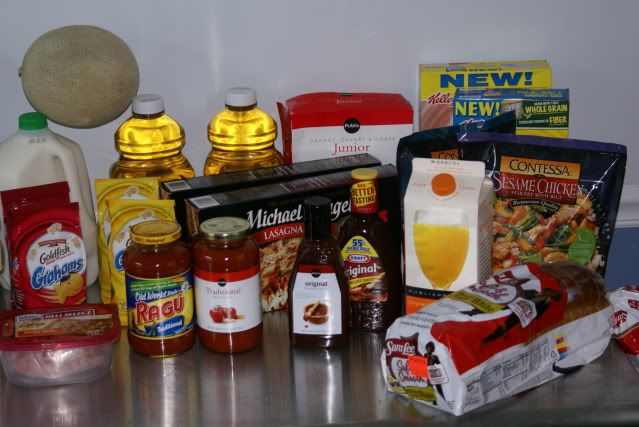 Milk
= FREE cause I bought 4 boxes of Kellogg's cereal...all of which I had coupons for!...it worked out as 4 boxes of cereal AND a gallon of milk for $4.30! Whoot!!
Juicy Juice Apple Juice
= $1.50 each
The spaghetti sauce AND the BBQ sauce
are on sale Buy Ours, get Theirs for FREE. We always do those deals!
The two Michael Angelo's meals
were FREE. We had a quality issue with the pack we bought at Sam's. We called them and they sent out two coupons. Always call the company if there is an issue with an item of theirs you purchased. We've never NOT gotten some sort of compensation when we bring quality issues to a company's attention. They thank us! Just be honest...don't take advantage!
Contessa Meals
= $2.00 each.
I could have done better if I didn't get the popsicles that the boys wanted or the cream cheese that I wanted. All in all I think I did great!!!!!
By the way...my total savings was $84.xx!!!! Can you believe that without coupons people actually pay $125+ for these groceries???? *shaking head*