So, rather than try to make any sense of the post I started yesterday I thought I would just start fresh...well, just add to the mumble jumble...LOL
What the heck is with all of the water towers in Georgia??? I bet we saw one in each city along the way. Even in Atlanta!
(I made the pictures a bit more interesting since they were SO boring)
and check this one out...Chik-Fil-A made it cute! I wonder if it's a real water tower or just for show.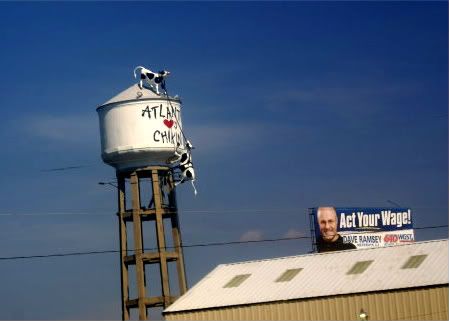 Do you see the "Act your Wage" sign?? I didn't even notice it until I was editing the picture...the Man and I (hubby's going to be known as "the Man" from now on) are trying to come to Financial Peace and
Dave Ramsey
is the author of that series/book/class. If you don't know who he is or what he does...I urge you to
check him out
!!!!