This week is the Week of the Eagle here at Fort Campbell. I'm not real sure what it stands for...I should probably look it up.
Update: I did look it up and found no significant reason for the special week. I'll keep looking and keep ya posted!
I do know there is a LOT of activities and festivities going on through Thursday. There was a Division Run with most of the soldiers on post...18,000 participated!!! WOW!! Even the Major General of Fort Campbell ran! What a guy!
Friday evening was a FREE concert with Carrie Underwood, Hank Williams Jr and others. We missed it.
Saturday was the air show! It was a crazy HOT day...but lots of fun!
Sunday there was a Vietnam Veteran's Welcome Home Ceremony. All Vietnam Veteran's were welcomed home in the celebration ceremony they should have received years ago. I wish we would have went to this. I bet there wasn't a dry eye in the house!
The rest of the week is filled with combatives and such...I'm sure it's a great time for the soldiers.
On to the air show pics...
A B-52 Strato Fortress Bomber flew over! That's a HUGE airplane...and LOUD!
There was an Air Assault demo and one of the helicopters brought in a cannon....
I'm guessing this is one of the original Jeeps used back long ago...reminds me of that comic strip....what's it called??? Found it! Beetle Bailey!!!!! Love those little guys!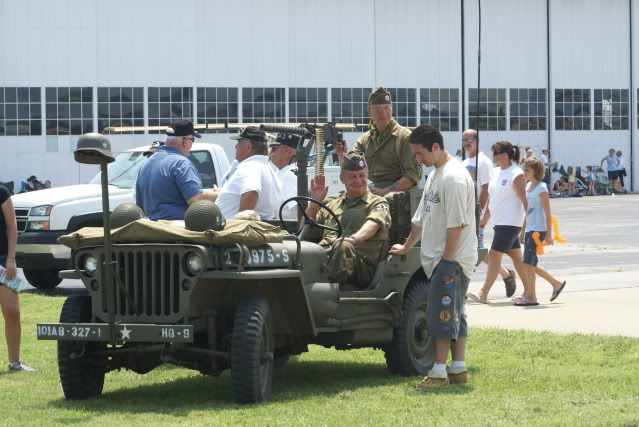 I was so interested in this guy...I should have walked up to him and asked him a few questions. I bet he has a few stories from war he could share...
(Update- I picked up the Fort Campbell Courier the other day and found this..."Veteran Ralph Manley, 85 shares in the festivities with the crowd, following the Airborne Air Assault World War II Re-enactment. The segment that Manley narrated occured in Normandy then American forces moved in on a German C2 position. Manley, then a Master Sergeant nicknamed, "Geronimo" who fought in several countries during WWII, including England, Belgium, Holland and Germany. He recalls one point during the war, when the enemy forces sent a message saying, "We will give you two hours to surrender or be annihilated." Manley says his commander replied simply, "Nuts.")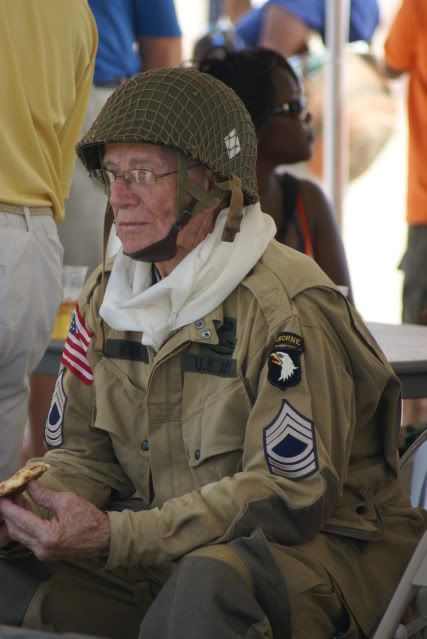 I'm going to have to think on which heli's these are....it's been a loooong day! Ahhh....I remember, the Cobra's! These were my favorite from the day!!! These helicopters were used in the Vietnam, Desert Storm and Desert Shield conflicts.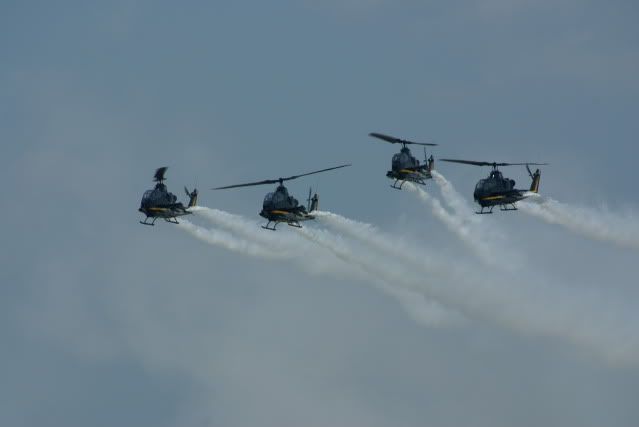 AMAZING!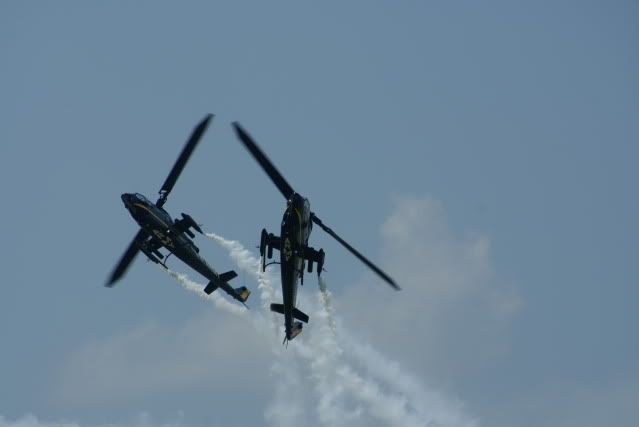 And here are the paratroopers!! These guys amaze me too! It takes alot of courage to jump from an aircraft!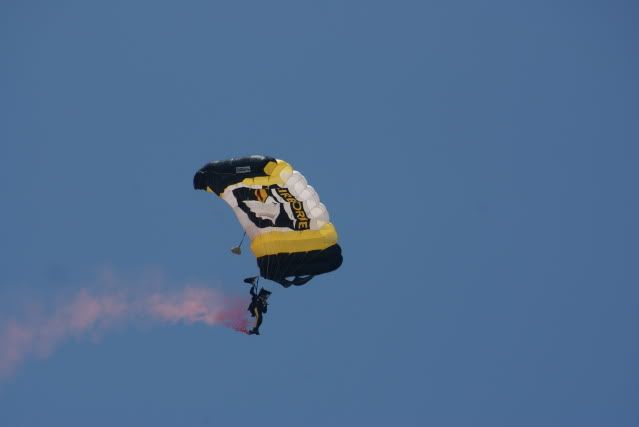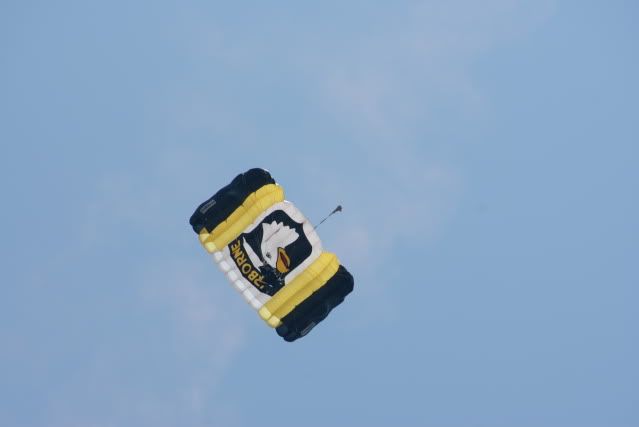 All of the boys LOVED the air show! Even if it's a scorcher, we'll be going back!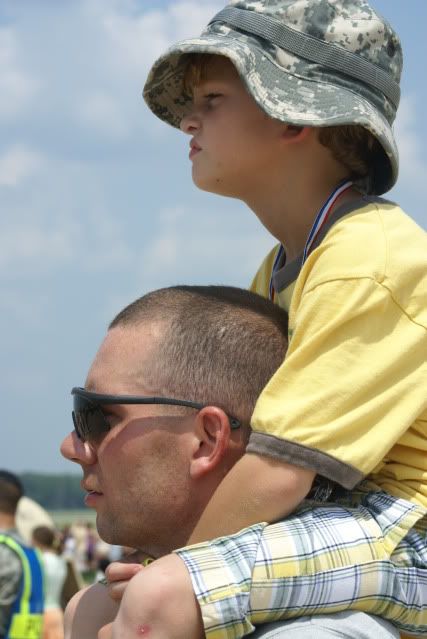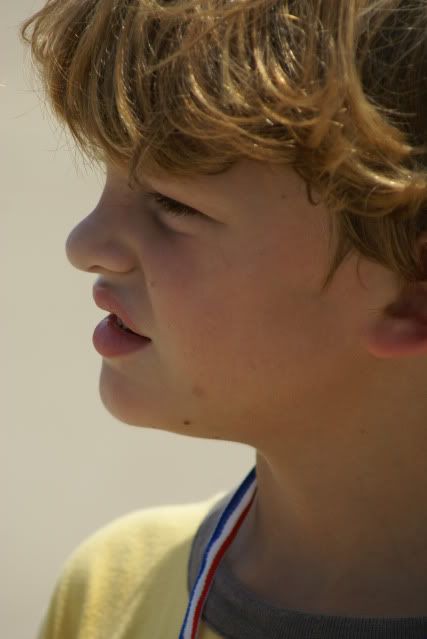 Hey, notice anything different about this little guy???? It's kinda covered up by the hat...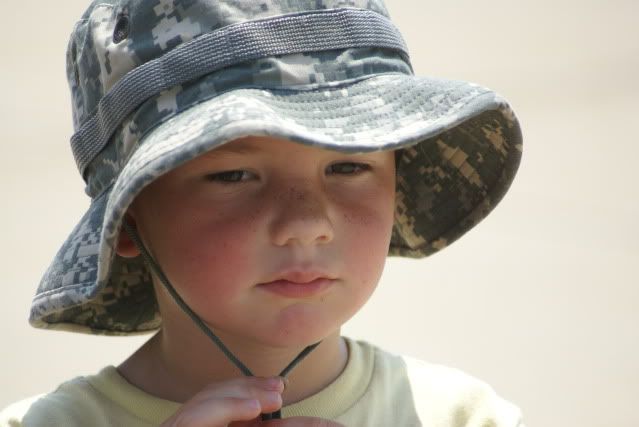 He got a BIG haircut!!! No more long hair for Jonah!!! *tears*
I didn't get any shots of McKinley at the air show...but here's a SUPER cute one I took days prior. Can you see those FOUR teeth???? Ok, so after taking a second look...you can only see three teeth. Trust me, there are four! :o)
And.....watch out world!!! McKinley is STANDING!!!! Yep, she pulls up on things on her own. She hasn't let go just yet. But, wait, it won't be long!
(Gotta love military housing floor....you can only imagine the amount of bumps and bruises we've already had and those to come!!!)
For what it's worth...I have LOTS of pictures that have been taken over the last month or so to sort through. I'm going to start from the most recent and work backwards...much like you would if you were keeping up with a scrapbook. So, bare with me and keep scrolling down for new updates. (I'm going to date them accordingly too...try to anyway!)