Well, the name "Overwhelmed by His Blessings" is proving to be an absolute perfect fit for my blog....and family!
If you read this blog enough, you know what I'm talkin' about...
OK. So, moving on.
Jake Austin had his first flag-football game on this past Saturday.
I was a little nervous for him. His team only had a couple of practices before they took to the field for a real game....they did great! Jake got a flag one time...YAY! And, coach let him run the ball on the last play...GO JAKE!
I have to apologize to the grandparents for my poor photos...I was trying to video tape the game for Daddy AND get photos. Next game I'll do better!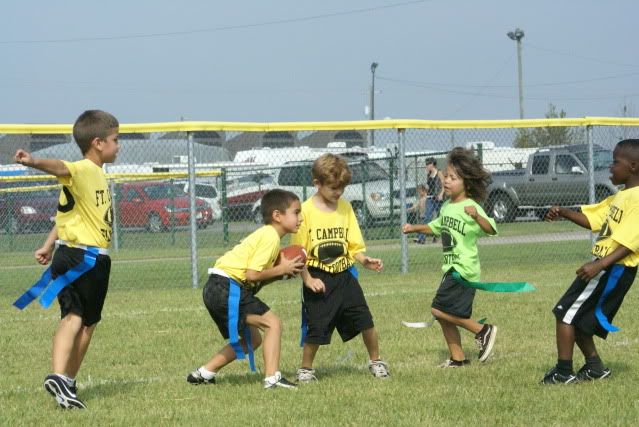 Go, Jake, Go!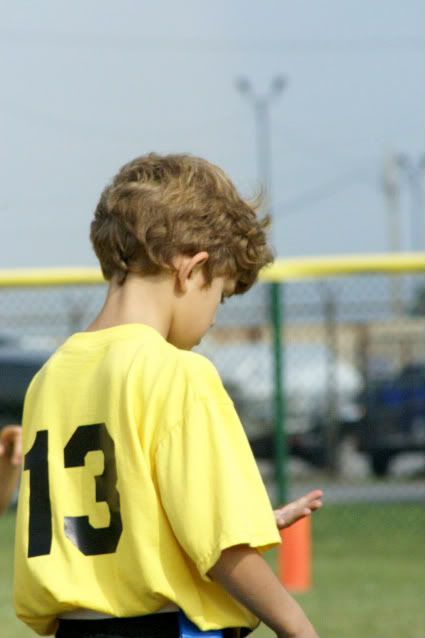 On a side note...I made Breakfast Grits Casserole for dinner...holy moly!!! I'm having a great big helping as a snack now...as Jett would say "mmm...Good Stuff"
Thank you Melissa M. for the recipe!
You guys want it???
1 lb. Maple sausage, browned and drained (I use Tennessee Pride)
1 1/2 C. uncooked grits, prepared, salt to taste (I don't add any salt)
4 oz Velveeta, cubed
3 eggs
Preheat oven to 350 degrees. Brown sausage, drain. Prepare grits according to package directions. Add Velveeta to grits, stir until melted. In a seperate bowl whip your eggs until combined...does that make sense? Add to grits mixture. Pour grits mixture into 9x9 or 9x13 pan. Sprinkle sausage on top. Bake for 20 minutes. My family has decided that a little pancake syrup is super tasty drizzled on top!!! ENJOY!