this is my 370th post.
impressive.
to me at least.
where've i been?
can i just say that the month of february was a big, huge, bundle of emotions, ups and downs, Hunky Hubs missin' days, messy clean-up days, and friendship building days.
through it i've had a couple of good times!
here's some highlights in photos from the last week.
first, my $35.00 vera bradley backpack.
retail value??
$85.00
really?!
i may have paid full retail during the first deployment.....
this time i'm smarter...more determined to pay off debt.
livin' like no one else today so we can can live like no one else tomorrow!!! (dave ramsey)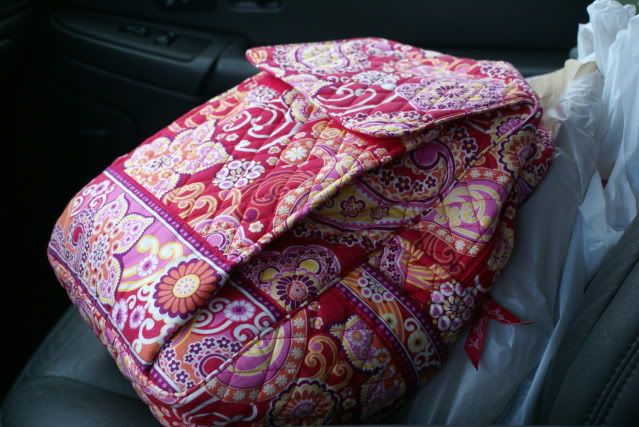 (close your eyes daddy)
we've had a lot of these lately...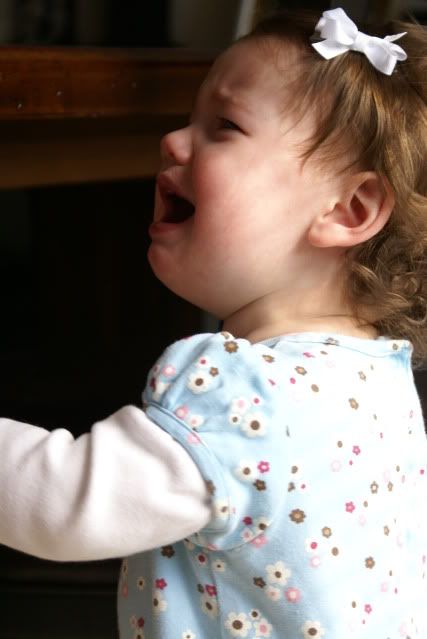 a few meltdowns per week are a common happening in your household too, right?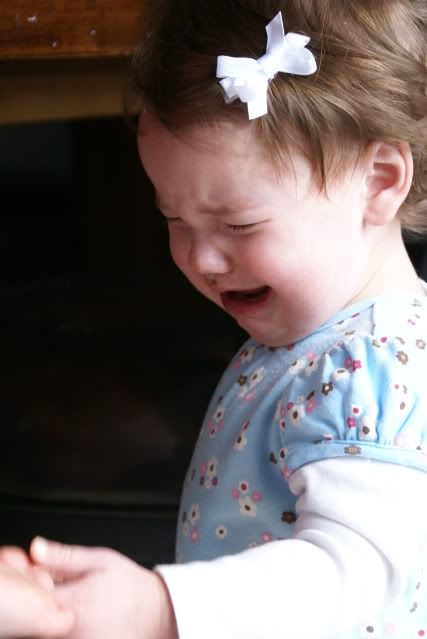 McKinley is learning quickly that the more dramatic the face, the louder the cry, the harder she hits the floor with the beginnings of a temper tantrum, the more sympathy she gets from this momma.
i'm in trouble.
daddy, you're in trouble.
prin. cess.
that's all i'm sayin'!
these boots are SCREAMIN' my name!
screamin'!
more specifically the dark brown with purty pink roses in the back...
love.
i said nevermind to the little sign that i didn't see until AFTER i took this picture, in the next window over, that said NO PHOTOS, PLEASE.
i love these boots.
i imagine they cost upwards of $300....
tomorrow...
did you guess that we are in nashville?
love me some nashville!
my mom and step-dad, ray, came into town for a short visit this past week.
we went out to eat more in four days than i would normally go out to eat in one month!
thursday we went to jake austin's favorite restaraunt, "crab lobster".
for you common folk, that's Red Lobster.
he's called it crab lobster for as long as i can remember.
the boy LOVES crab legs.
well, he did until last thursday night.
he had a kids crab leg plate and then an additional order of 1/2 pound of legs.
he was up at 2ish AM and again at 5AM....sick!
he didn't go to school the next day.
he was SICK!
he told me the next morning (5AM is NOT morning to me!) that he will never eat crab legs again....
poor guy.
friday evening we went to have mexican.
i love mexican.
love, love, LOVE!
well, i forgot when we walked into this particular restaraunt that kentucky still allows smoking in their restaraunts....
jake austin was less than thrilled.
he sat with his hand over his mouth for all of dinner.
he would put a bite of food into his mouth and then quickly cover his nose and mouth with his sleeve.
it was painful to watch.
we won't be going back to this restaraunt....
sad, it was good.
saturday we all headed to nashville.
our family always has such a great time in nashville.
there's so much to see.
everytime i begin my drive into that musically talented city i imagine whom i might bump into....
carrie underwood?
faith hill and tim mcgraw?
taylor swift?
i've not seen anyone famous yet...
not yet.
hopefully within the three years we're here....
but, not yet.
elvis was there.
this guy perked up and gave a little grin as SOON as he saw my camera...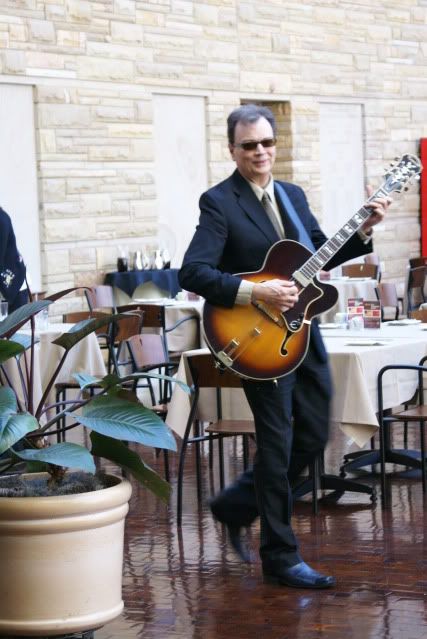 who's this handsome guy???
oh, it's my jonah-bonah....
rockin' his mommas sunglasses.
we took a walk along the music city walk of fame...
i was surprised to find steven curtis chapman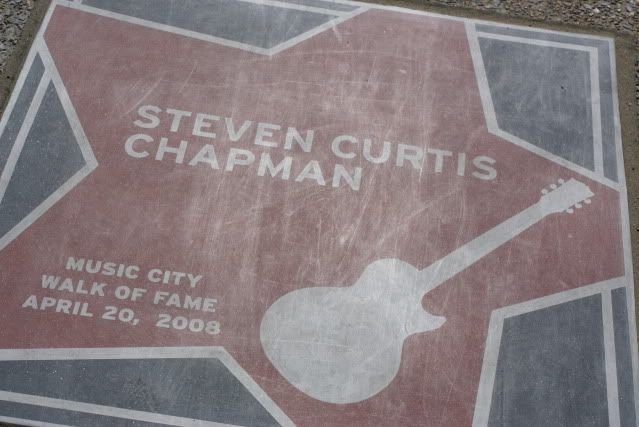 and michael w smith....
i'm not surprised that they each have a star,
i'm surprised that there are christian music artists being recognized.
maybe it's a little naive of me...
i think there should be MORE christian music artists given recognition for their God-given talents.
not 100% sure what the story is behind this guitar that sits on broadway...
i admit i followed the crowd and took a pitcure of it...
maybe a bit unique with MY kiddos in front of it.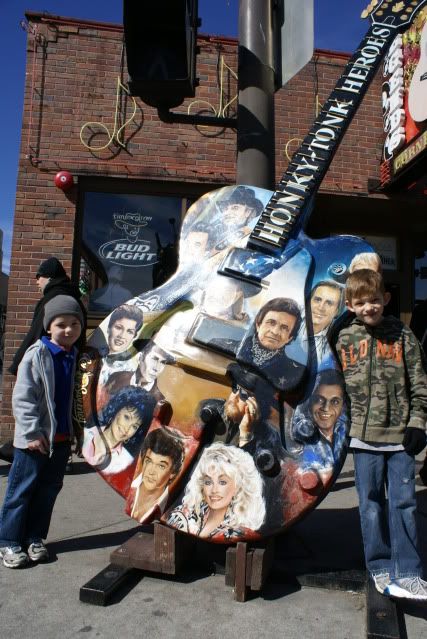 honky tonk heroes, y'all!!!
still with me???
almost finished.
on our way back to my just-outta-the-shop truck we saw this rather large banner on the side of a rather loud, live band playin', corner bar.
if it were just Hubs and I we would have totally stopped to listen to the live band inside....
i would've wanted to anyway....
i got off track.
i'm missin' Hubs.
please, excuse me.
ok, so, on our way back to the truck we saw this banner...
the kiddos took a quick pic...
and then we realized that it was autographed...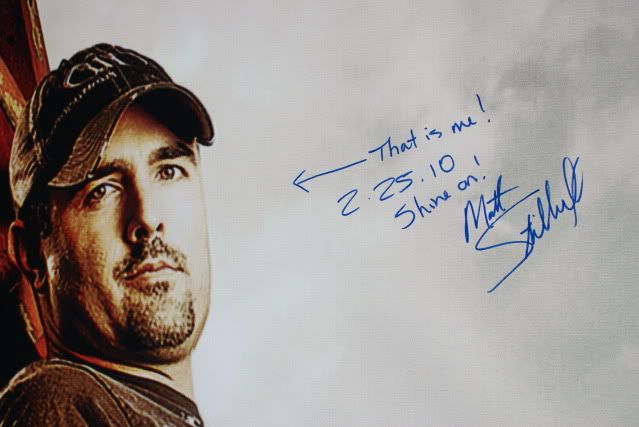 think it's real?
on our way out of nashville,
yet, still inside,
we stopped at opry mills mall and ate dinner at the rainforest cafe.
perhaps my bloating feeling isn't bloating at all....
instead, a sincere weight gain of TEN pounds from all of this eating out.....
just sayin'.
this is another favorite of ours.
jett asks for "rainbow cafe" DAILY.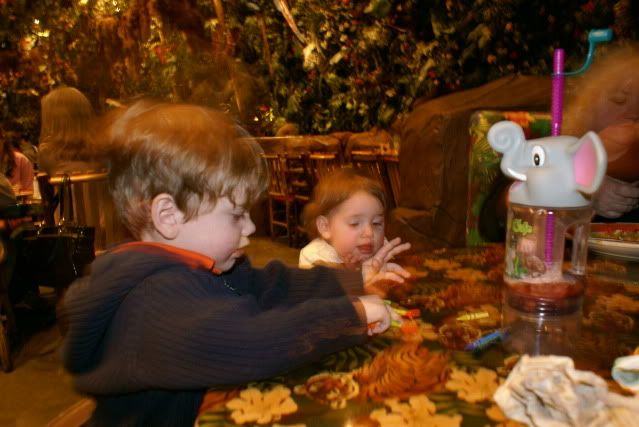 jake austin wanted to go here for the $6.99 icee.
$6.99?
all for an icee, a souvenier cup, and a toy.
$6.99 x 3 = three very happy children!!!
did i mention the VOLCANO???!!!
this was jake's (unwritten) birthday cake.
HAPPY BIRTHDAY JAKE!!!!
your daddy and i promised you this $12.99 piece of three minute heaven....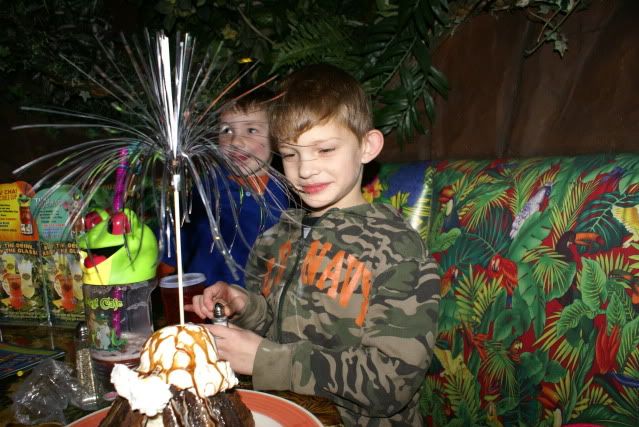 grandma paid for it...
thank you grandma and papa!!!!
Jake,
eight years ago,
on february 28, 2002 you became ours.
we are so thankful for you.
you are a gift from God.
never lose sight of God's will for your life.
never stop loving Jesus.
i love you!
daddy loves you!
daddy misses you!
happy birthday, big boy!