remember when i told you all that my
camera's memory card was corrupted and how the heck does this happen anyway
???
well, because my family at least reads this ol' blog...
aunt debby came to my rescue!!!
she called and said that she was looking forward to seeing pictures of jake while he was home and when she came to the blog
there were none
.
(i just had the sound of that creepy guy on dirty dancing when he was telling the story of something and he said something along the lines of "and they were missing"...ok, nevermind. i'm not good at retaining movie lines.)
she quickly sent me the $39.95 and i'm just now getting around to buying the software.
i blame it on running a house,
chasing after four kiddos,
being mom and dad and friend and everything in between,
by MYSELF.
thank you aunt debby!!!
++++++++++++++++++++++++++++++++++++++++++++++++++
i was able to recover just about all of the 551 files that were on the memory card.
some of them have a crazy gray line through them and others are just crazy looking.
blasted corrupted files.
so far, though, it looks like my faves are all there!!!
including these from the first day of school.
no worries. i'll get the rest of them posted very soon.
if i have to blog until my fingers bleed...i'll do it for you, the reader!
i always take my boys to their classrooms on the first day of school.
as soon as we pulled into the parking lot jonah had a friend run up to him.
they were so excited to see each other.
they aren't in the same class but they'll see each other on the playground.
(isn't that cute??? they'll see each other on the playground...)
and look at cute little jett to the far right. he wants to go to school too.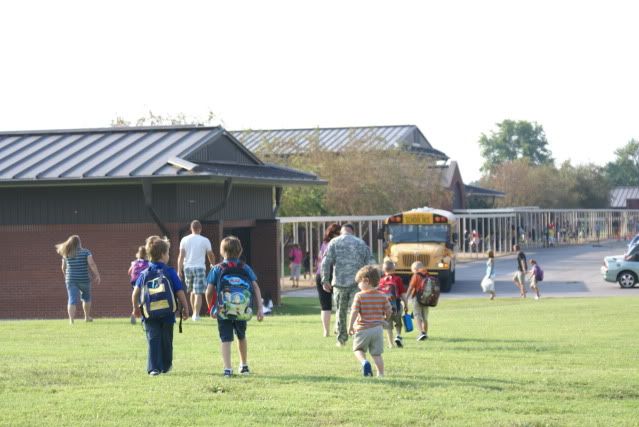 i'm just going to let you all down gently now.
jake made me promise before we even walked in that i would take zero pictures.
i promised.
so, i have no pictures of him at school on his first day of third grade.
total mommy fail!
jonah, on the otherhand, was a total ham.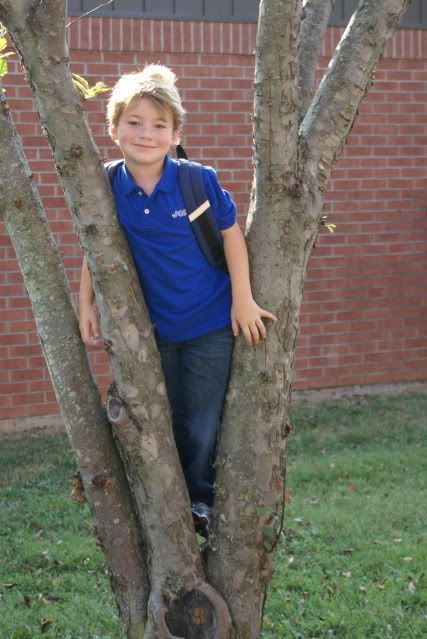 meeting his teacher for the first time.
his locker.
his name tag.
his cute little desk.
and, jonah and the best first grade teacher ever!!!
here's my big third grader!
i was allowed this one, quick picture. since there were no friends around, of course.