our family christmas card has been on my mind for the last few days.
should i send one since we aren't together as a family?
it doesn't feel much like christmas.
do i have any good pictures of the kids?
do i have one of all of them together?
i decided i should send one with whatever photo i have of each of them.
my friends and family will not mind if it's not the best.
heck, getting a christmas card from this frazzled momma is an accomplish on my part all in itself!
i found a super cute christmas card over at
shutterfly
today.
there are so many to choose from....
but, this one jumped out at me as my fave!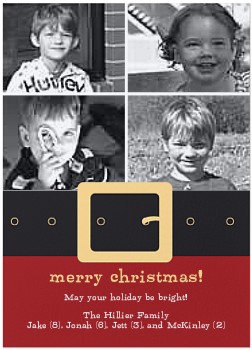 while at shutterfly.com i found a bunch of cute gift ideas.
there are
photo calendars
,
photo mugs
, which hubs has been asking for....and i should definitely get for him.
he's worked hard for it.
jake's been asking for a life size wall cling of his daddy.
shutterfly has awesome
wall decals
too!!!
that would be a great birthday present for him.
now that i've shown you my christmas card i don't have to mail it right???
i'm just kidding...
i know you're going to receive it and put it on your fridge for the whole year!
right?!?!?
p.s. after looking for the perfect picture of each of my kiddos i realized i have exactly 45,893 action shots and 1 of each of them sitting still.
i should be grateful for at least one, right?
keep you eye open for your christmas card to come in the mail!