There is a song by Steven Curtis Chapman that says:
I can see the fingerprints of God
When I look at you
I can see the fingerprints of God
And I know its true
Youre a masterpiece
That all creation quietly applauds
And you're covered with the fingerprints of God
So look around you and see where YOU can see God's fingerprints. Is it in nature? Kids? Animals? Where do you see them?
Here is my handsome hubby! (don't ya just love a man in uniform????) See that piece of paper he's holding??? That would be his letter of resignation from the Sheriff's Office. This was a decision he and I prayed long and hard about. It is his life long dream to be on the streets, with lights and siren, running to the next call to save the next citizen. He loves what he does! He IS a natural born police officer....afterall, his dad and grandaddy AND grandfather he never met were all police officers. So why resign?? Family.
Jake was working in Orlando, two hours away from home. The kids and I stayed up here while he went away to work. It tore Jake's heart to hear the kids ask why he had to go back to work. Jake Austin would cry himself to sleep some nights...he would tell me he wished Daddy would have never become a police officer. Jonah, well, he's old enough to understand but not really...he was just sad when Daddy was gone. We all missed him SO much when he was working.
Let's not even go into the LONG hours. And on top of those long hours came late nights driving home. There were times Jake wouldn't crawl into bed until 9am...and that was from getting up at around 11am the PREVIOUS morning.
I missed my hubby, the kids missed him, he missed the kids, he missed his parents, he missed his sleep!!!...we knew he, no, WE belonged here!
So, how does this pertain to Fingerprint Friday??? Faith. We will be seeing God's Fingerprint in EVERYTHING around us for the coming weeks. We are holding tight to our faith that God will provide...in all we need!!!! Our God is an AWESOME God! We've seen Him work before in our lives. We are looking forward to what He has in store for us next!
CHEESE!!! :o)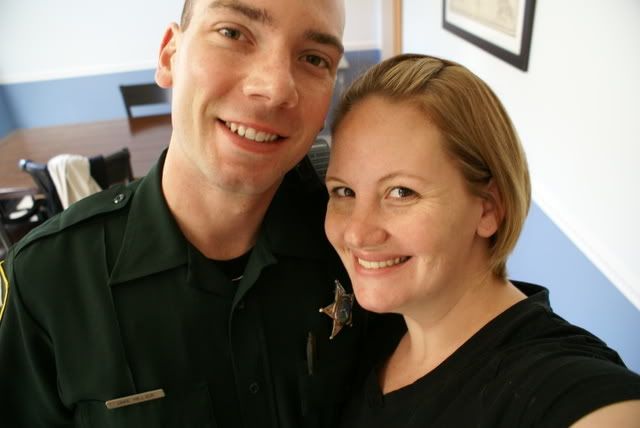 (no make-up and undone hair makes for a BEAUTIFUL pic...don't ya think???)
I almost forgot...go to
PamperingBeki's blog
to see more Fingerprints!!!